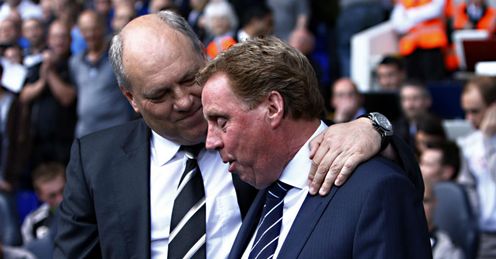 Jol to Redknapp?: "I've been there, my friend..."
The last time Tottenham Hotspur fired a manager as England prepared to face Sweden in a European Championship tie, few mourned Christian Gross's departure.
In fact, many Spurs supporters would have happily paid his air fare home to Switzerland in September 1998, let alone reimbursed the Travelcard that brought him to White Hart Lane nine months earlier.
Yet the departure of Harry Redknapp – an apparent shock to the viewing world, a long time coming to many White Hart Lane watchers – promises to be much more divisive.
To some, 'Arry is the saviour of White Hart Lane, the man who famously dragged the careworn team from 'two points from eight games' to the Champions League quarter-finals within two-and-a-half years.
Not only has he secured three consecutive top-five finishes at White Hart Lane for the first time since 1964, he has done so encouraging the free-flowing, devil-may-care football for which Spurs were once-upon-a-time renowned.
To others, he is a self-serving rentaquote to whom every Tottenham upturn is his responsibility alone and every slide someone else's fault.
A shoulder-shrugging short-termist, whose fabled man-management only goes so far as an over-worked, under-rotated squad – and to blame for two late-season slumps in a row.
To some, of course, the truth lies somewhere in between – perhaps appropriate when discussing a man who can directly contradict his own pronouncement one day with another audience-pleaser the next.
Redknapp would have been few Spurs' fans pick as manager for many years before he finally got the late-night call one Saturday in October 2008 – too associated with West Ham, too mouthy, too
common
.
Yet such was the plight of the club at the time, an appointment allegedly long pushed upon chairman Daniel Levy by director Paul Kemsley was finally made feasible.
Juande Ramos's reign at Tottenham has gone down alongside those of Gross, Aston Villa's Josef Venglos and Wimbledon's Egil Olsen as among the most laughably inept of overseas manager-spells in England.
All could, though, claim expert witnesses claiming certain mitigating circumstances and Ramos did lift with Spurs their only cup since 1999 – deliriously seeing off Arsenal and Chelsea as closing acts.
But all the pre-season milk of human kindness towards his side in summer 2008 quickly curdled as his tactical experiments failed to gel and his linguistic skills developed even less well.
Redknapp thus provided a refreshing return to basics, giving a central role to newly-signed playmaker Luka Modric as Arsenal were pegged back from 4-2 to 4-4 and Liverpool – yes, back then, Liverpool – were given their first defeat of the season.
Ramos's two-points-from-eight-games are well-remembered – partly due to Redknapp's regular reminders.
Yet less often recalled is the run of games in December 2008 and January 2009 when eight matches yielded six points, threatening to drag Spurs back into the relegation battle.
More worrying – and uncharacteristic – were the hidebound defensive line-ups Redknapp sent out, barely registering a shot on goal per game in away defeats to the likes of Newcastle United and Wigan Athletic.
At least, on reflection, a lesson was learnt. Often excitingly so.
The same period did see Spurs reach a second successive League Cup final, unluckily losing to Manchester United on penalties, but only after surviving a fright – and defensive horror-show – in the semi-finals against second-tier Burnley.
That kind of one-off meltdown would become an occasional yet recurring habit, such as a 4-0 FA Cup battering at Fulham, a Champions League-endangering 3-2 defeat at Switzerland's Young Boys, and five-goal poundings last season by Manchester City, Arsenal and Chelsea.
On each of those occasions – and the surreal 4-3 defeat at Internazionale in October 2010 – Redknapp's starting line-ups seemed to bear out his reputation for tactical negligence.
Yet almost as often, his ability to rethink his strategy mid-match could prove as astute as any more cerebral-seeming manager – such as the introduction of Jermain Defoe that helped turn a 2-0 deficit at Arsenal into a 3-2 victory: Spurs' first away to their arch rivals in 17 years.
John Lennon once said of Paul McCartney that he was a very good lyricist who just didn't believe he was – perhaps similar could be said of Redknapp as a tactician.
Yet while his strategic thinking may sometimes be under-rated, his man-management talents can be esteemed too much the other way.
While his Spurs signings as a whole have proved underwhelming – Peter Crouch, Wilson Palacios and Robbie Keane among those sold at a loss – the star players have been those inherited such as Luka Modric and Gareth Bale. Redknapp has evidently found how to get the very best from those players, through both canny positioning and positive handling.
Yet Bale and Modric visibly tired as last season dragged on, while out-of-favour men either got offloaded – like Roman Pavlyuchenko – or loaned out like Vedran Corluka and Steven Pienaar, leaving those that remained either overworked or unfulfilled.
Blame for Spurs' misdirected January transfer window could well be levelled at the board as well as Redknapp.
At a time when Tottenham were being – over-optimistically – talked up by some as authentic title contenders, to bring in only veteran free transfers Louis Saha and Ryan Nelsen seemed almost insulting.
Perhaps, understandably, chairman Daniel Levy felt unwilling to spend lavishly here and now for a manager presumed to be off to the England job within months – and hardly making a secret about his own ambitions.
Now Levy, having evidently tired of Redknapp's talkative nature and hesitant about handing a lengthy contract extension after that dispiriting close to the season, faces a daunting task.
After almost four years of stability, Tottenham are now plunged back into the sort of uncertainty that had become quite a constant until Redknapp's reign.
Leading contenders to replace Redknapp, such as Everton's David Moyes or Wigan Athletic's Roberto Martinez, can hardly be assured of enthusiastic backing from fans – and improving upon last season's fourth place will be challenging.
As will, more imminently, holding on to the likes of Modric, Bale and even Schalke target, the talismanic Rafael van der Vaart, after Chelsea's Champions League triumph consigned Spurs, blamelessly, to the Europa instead of Champions League.
Levy has become accustomed to being seen as, let's say, kooky by the media and fellow Premier League figures – Sir Alex Ferguson once described him, eyebrows audibly raised, as 'a little different'.
And he has been ruthless before, disscarding jocular and popular manager Martin Jol, authentic Spurs legend Glenn Hoddle - and George Graham, whose exit was grieved even less than Gross's yet whose apparent offence was to give an interview rather less outspoken than many of Redknapp's.
Whoever Spurs appoint, whatever next season brings, 'Arry's axing could split supporters for a long time to come.
At least there are that win at Arsenal, the nights against Inter and the other mighty Milan, and the many rapturous afternoons or evenings enjoyed at a club now back towards the right end of the table.
Even, perhaps a peak, the sight of one ideal David Bentley delivery: the bucket of cold water joyously tipped over Redknapp the night Champions League qualification was achieved in May 2010.
Little could he know then how his chairman's blood could run colder.